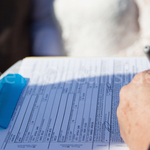 Arizona Marriage License Information
Each County in the State of Arizona issues Public and Confidential Marriage Licenses however, each County may have different rules on how to obtain and fees. Please check with your local Arizona County Clerk for this information. You need to provide identification and possibly proof of age. Arizona does not require a blood test or a copy of your dissolution of marriage decree.
A marriage license expires 12 months after it is issued by the state. To make a marriage license valid it must have signatures from the individuals looking to get married, two witnesses, and the person who performed the ceremony. The bottom portion of the license is then mailed into the Clerk of the Superior Court by the person who performed the ceremony.
The following counties have information available online about the fees involved and how to obtain a marriage license. If your county is not listed, contact your local courthouse. As a courtesy, County Clerk websites are linked below. If your County is not listed or links are broken, simply search for "County Clerk of (Name of County)" for more information.
Apache County
Cochise County
Coconino County
Gila County
Graham County
La Paz County
Maricopa County
Mohave County
Navajo County
Pima County
Yavapai County
Yuma County
---
In addition to a standard Marriage license, Arizona offer a covenant marriage.
How does a covenant marriage differ from a traditional marriage? The covenant marriage differs both in the steps necessary to get married and the reasons why a legal separation or divorce may be granted by the court. In a covenant marriage, legal separation or divorce is only granted for specific reasons listed in state law.
Premarital counseling – the couple must have counseling that is provided either by a member of the clergy or a marriage counselor. The facilitator of the counseling signs an affidavit that is submitted when applying for a marriage license.
Apply for a marriage license – to qualify for a marriage license both individuals must have a valid, government-issued, ID and be 18 years old or over; if under the age of 18 a legal parent or guardian has to be present to sign the application
Declare intentions – a special statement agreeing to the covenant marriage clause must be signed on the marriage license application form. The wording for the statement is:

We solemnly declare that marriage is a covenant between a man and a woman who agree to live together as husband and wife for as long as they both live. We have chosen each other carefully and have received premarital counseling on the nature, purposes, and responsibilities of marriage. We understand that a covenant marriage is for life. If we experience marital difficulties, we commit ourselves to take all reasonable efforts to preserve our marriage, including marital counseling. With full knowledge of what this commitment means, we do declare that our marriage will be bound by Arizona law on covenant marriages and we promise to love, honor, and care for one another as husband and wife for the rest of our lives.

Witness of signatures – A court clerk must witness the signatures of both individuals looking to be wed. With the license application a sworn, notarized statement from the member of the clergy or marriage counselor who provided the premarital counseling. This statement must confirm that the individuals were advised about the nature and purpose of a covenant marriage and the limited reasons for ending the marriage by legal separation or divorce. The statement must also show that a copy of this informational pamphlet was given to each person.